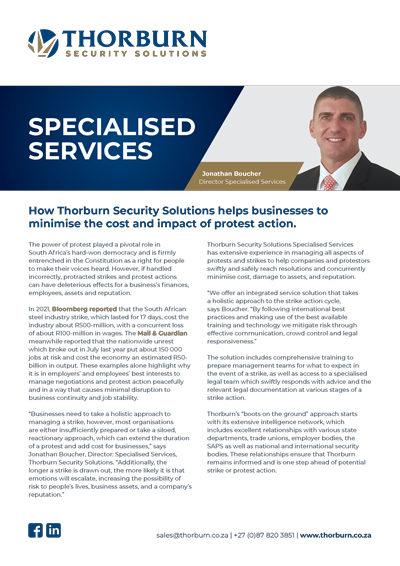 SPECIALISED SERVICES
How Thorburn Security Solutions helps businesses to minimise the cost and impact of protest action.
The power of protest played a pivotal role in South Africa's hard-won democracy and is firmly entrenched in the Constitution as a right for people to make their voices heard. However, if handled incorrectly, protracted strikes and protest actions can have deleterious effects for a business's finances, employees, assets and reputation.
In 2021, Bloomberg reported that the South African steel industry strike, which lasted for 17 days, cost the industry about R500-million, with a concurrent loss of about R100-million in wages. The Mail & Guardian meanwhile reported that the nationwide unrest which broke out in July last year put about 150 000 jobs at risk and cost the economy an estimated R50- billion in output. These examples alone highlight why it is in employers' and employees' best interests to manage negotiations and protest action peacefully and in a way that causes minimal disruption to business continuity and job stability.
Click here to download full brochure