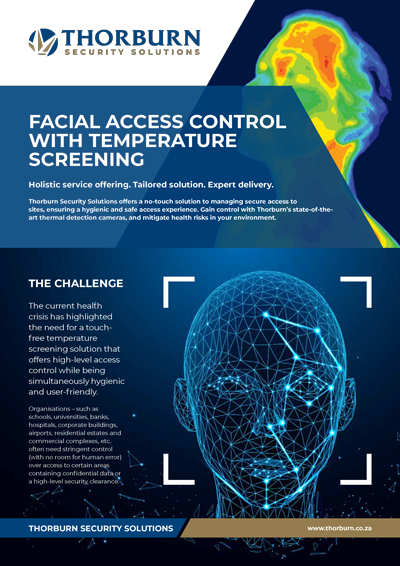 Holistic service offering. Tailored solution. Expert delivery.
Thorburn Security Solutions offers a no-touch solution to managing secure access to sites, ensuring a hygienic and safe access experience. Gain control with Thorburn's state-of-theart thermal detection cameras, and mitigate health risks in your environment.
THE CHALLENGE
The current health crisis has highlighted the need for a touchfree temperature screening solution that offers high-level access control while being simultaneously hygienic and user-friendly.
Organisations – such as schools, universities, banks, hospitals, corporate buildings, airports, residential estates and commercial complexes, etc. often need stringent control (with no room for human error) over access to certain areas containing confidential data or a high-level security clearance.
Click here to download full brochure