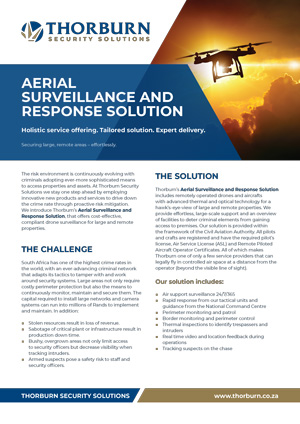 Holistic service offering. Tailored solution. Expert delivery.
Securing large, remote areas – effortlessly.
The risk environment is continuously evolving with criminals adopting ever-more sophisticated means to access properties and assets. At Thorburn Security Solutions we stay one step ahead by employing innovative new products and services to drive down the crime rate through proactive risk mitigation. We introduce Thorburn's Aerial Surveillance and Response Solution, that offers cost-effective, compliant drone surveillance for large and remote properties.
THE CHALLENGE
South Africa has one of the highest crime rates in the world, with an ever-advancing criminal network that adapts its tactics to tamper with and work around security systems. Large areas not only require costly perimeter protection but also the means to continuously monitor, maintain and secure them. The capital required to install large networks and camera systems can run into
millions of Rands to implement and maintain. In addition:
Stolen resources result in loss of revenue.
Sabotage of critical plant or infrastructure result in production down time.
Bushy, overgrown areas not only limit access to security officers but decrease visibility when tracking intruders.
Armed suspects pose a safety risk to staff and security officers.