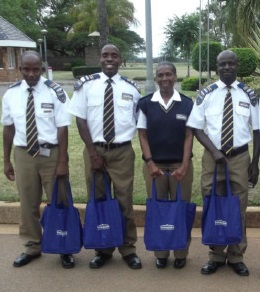 There is a saying that "nothing has changed except for the date". Christmas day and night 2012 was typical of the saying as almost 900 Christmas parcels were handed out to our Thorburn staff by managers.
Preparing and distributing the parcels to staff as far as 600 km from Pretoria is a mission on its own. The procurement, transportation and packing of the pre-printed Thorburn shopping bags required a lot of planning and many hands. What started off in 2005 in the residence of Dolf Scheepers for 80 people, has grown to 890 parcels in 2012. The idea is to give the officer who works on Christmas day or night something to take home in the form of food whilst the durable Thorburn bag can always be used for shopping in future.
In addition to this Christmas gift is a service motivation project over the festive period. The traditional Saturday night Thorburn Lotto, where staff can win R3000 for service excellence such as arrests, preventions or safety initiatives, has been extended to be valid from the evening of 21 December to the of morning 27 December. On the night of 16 December nine officers on two different contracts shared in the Thorburn Lotto.