For the past 7 years Thorburn has used international Aids Day to create awareness of the disease, and World Aids Day 2013 was no exception.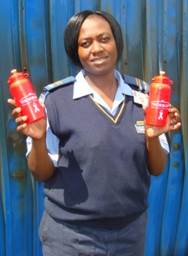 A focused awareness campaign among staff with various media communicating the international theme for World Aids Day – "Getting to zero: Zero new HIV infections. Zero discrimination. Zero AIDS-related deaths", was a highlight on the Thorburn calendar.
Security officers have been made aware of the dangers of HIV/AIDS infection through the 8 Dimensions of Wellness Awareness Program launched at various times throughout the year and presented by an external consultant over the past 11 months.  Two weeks prior to World Aids Day, posters and pamphlets were distributed to all security personnel, an awareness letter sent out in addition to a brief reminder on 1 December to mark the brevity of the occasion. To drive this important issue home, all security personnel were presented with a water bottle bearing the World Aids Day ribbon.
Externally Thorburn provided support in the form of food supplies and branded water bottles to children at the Lulekani Home Care Centre near Palabora and the Good Sheppard Home Care facility in Eersterus near Pretoria. We also took along a few treats such as lollipops, cold drinks and chips.