Following a relative quite crime period during the 2013 festive period in South Africa, copper cable theft attempts at mines have risen sharply, with scrap dealers back in business again from mid January 2014. The higher copper price of almost R82 p/kg linked to an expected increase due to the weak rand versus the dollar, makes copper theft more lucrative in the months to come.
Similar to January 2012 Thorburn had early success in the prevention of copper cable theft on mines. Various attempts at the mines have been foiled and recoveries made whilst arrests were also affected. In December 2013 Thorburn arrested three members from a group of 10 near Secunda in a theft that was organised by a scrap dealer!
In other operations during the past two weeks, copper-bearing waste was recovered from a LDV at a mine following excellent investigative and intelligence activities, whilst avid follow-up on intelligence resulted in the recovery of cable from a chrome plant operation.
Below is evidence of Thorburn successes early January 2014 where copper bearing product and cable was stolen and recovered: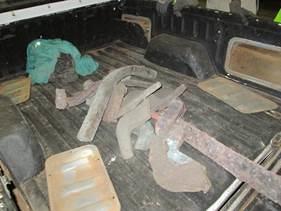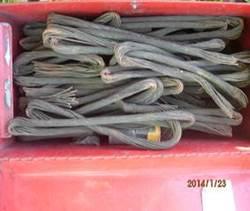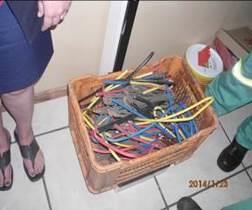 In SA however, copper theft increased to a level of R10.5m in December 2013, as indicated by the SA Chamber of Commerce and Industry (SACCI). According to SACCI, copper theft equated to R9.5m in November 2013. The high figure for December could be attributed to a spill-over from the previous month. SACCI goes on to say that the copper theft barometer level for last year was 41% lower than in 2012. Having said this, the sudden increase in price in Jan 2014 coupled with a weaker rand exchange rate could create a greater incentive for organised crime. The price increased from R80 – R90 in Dec and again a month later to R82–30 thus far in Jan 2014.
The drop in theft is partly due to the export restriction on scrap metal that came into effect in Sept 2013. South African exports of copper waste products fell to $14.3 million in November from $62.9 million in October 2013, the lowest in more than three years. Another reason is the closure of scrap dealers for the festive period which contributed to a sharp drop in cable theft on mines from 16 Dec to early January 2014.
Copper theft remains at a high rate on the mines, be it copper cable or goods bearing copper that is in high demand. Special measures such as pre-crete covering of cable racks, covering with old tyres (Cable Safe), alarm systems, video driven alarm activations (Videofied), manned guarding and intelligence are all deterrents in the uphill battle against copper cable theft at the mines.
Below is an example of such protection of cable at a Thorburn client: