Whether it be on the road or in the mountains, Thorburn's brand is spinning into the world of cycling!
The reason for getting involved in road cycling and mountain biking is simply that we believe in healthy lifestyles. Cycling is a sport that invites everyone to join in the fun – you can be a first timer or a professional or even a spectator – there is always space for the whole family!
This past weekend Thorburn rolled into the streets of Stellenbosch for the Criterium Night Race hosted by Lights by Linea. This type of race happens as dusk and is comparable to grand prix, but for cyclists. Check out our video to get a glimpse of the action. https://www.youtube.com/watch?v=aEJ5eSWsb7c
On Friday morning 8 November at 07hoo, our Financial Director, Philip Brand and his cycling team mate, Dirk Kotze, represented the Thorburn team as they set out to complete the Wines 2 Whales. The name says it all as 3300 riders will start in the Winelands of Somerset West, crossing 13 wineries, 26 private farms, six mountains, historic roads and mountain passes, nature conservation areas – including the Kogelberg Biosphere, before finishing within sight of the famous whales of Walker Bay in Hermanus! Starting in Somerset West and climbing up, over and around the Hottentots Holland mountain towards the Elgin valley, then heading towards the Overstrand, variety is the keyword with the spectacular beauty of the area, offering riders a very different riding experience every day.
The Thorburn team completed the entire race, without falling even once, in 14hrs 2min 23seconds, 369th out of 650 teams! This is the type of performance Thorburn aims to give as we literally go the extra mile in terms of service excellence! Well done.
See some more photos at https://www.wines2whales.co.za/index.php?id=29&picgroup=2013w2wracestagethree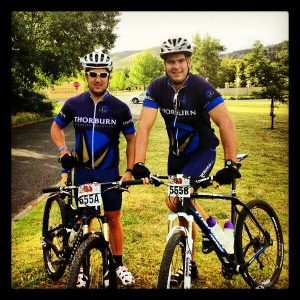 Dirk Kotze & Philip Brand in their Thorburn kits – ready to leave dirt in the other teams' faces.