11.01.2013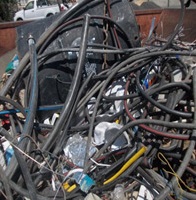 2013 started off on a high note for the Steelpoort based Thorburn Special Operations Team. As when a large number of cable was recovered from scrap dealers in Burgersfort in early January 2012, did the Spec Ops Team manage to recover copper cable mixed with traditional scrap to the value of R20 000 at a mine on 9 January 2013. The special searching and document checks at the mine exit resulted in this success. Not only was a major recovery made but a possible systems error in terms of authorised signatories was also uncovered. In another incident an area patrol by the Special Operations Team resulted in the identification of a possible future hazard when an overflowing dam was identified and reported to the mine management.
It is a reality that security guarding operations, if not properly supervised and encouraged to perform, could become stereotype with little innovation due to the routine nature of tasks to be executed. In many instances are businesses' budget shortfalls forcing guarding services to perform beyond capabilities allowing for slips, oversight and negligence. On the other hand security officers are exposed to bribery to overlook discrepancies.
Supplementing the security guarding services with independent external Special Operations services has proved to add value for Thorburn Security Solutions and our clients: identifying risks not normally in the scope of the "guard at the gate" and adding independence to operations. The surprise "stop and search" operations on mines, the takeover of searching functions at guard posts, observation services and area domination by special operations teams proofs to be successful. This is not only a major crime prevention tool but also a special safety enforcement mechanism through vehicle, license, identification card and PPE checks.
This is a value added service that is offered to Thorburn clients at no additional costs.