Female Thorburn Security Solutions mining security officer and qualified CCTV surveillance practitioner N.M Kgoete at the Phalaborwa Mining Company (PMC) was the latest winner in the Thorburn Positive Thinking lucky draw held last week in Pretoria. Me Kgoete in the past received several financial rewards for her contribution as a surveillance officer to loss prevention at PMC, this time round her scratch card that she received was the winning card in the lucky draw. Me Kgoete was last year trained as surveillance officer by the renowned Dr Graig Donald. In July 2013 the surveillance officers at PMC will be retrained by Dr Donald, thereby enhancing the capabilities even more.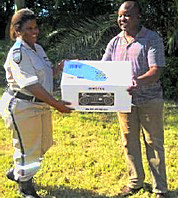 Me Kgoete left receives her lucky draw prize from PMC Spec Ops Team Leader Libya Monyela
Scratch cards for a job well done, positive contributions and general presentability are issued in the Thorburn Northern Region since 2011 and every quarter staff could earn that extra reward in the Lucky Draw for scratch card winners – normally the prize of the winner is between R800 and R1000. Me Kgoete won a sound system and a Pick n Pay R200 gift voucher.
Congratulations to Me Kgoete on this lucky draw but in general on her excellent performance leading to various preventions and arrests at PMC.